Root veggies are high in antioxidants, fiber, phytonutrients, and low in calories. They improve physical and mental well being, while fighting fatigue. Lose unwanted weight with root veggies! According to Margaret Nearing from Best Health, five reasons to eat root vegetables are to reduce your risk of cancer, get your folate, absorb more iron, increase your exercise stamina, and boost your beta.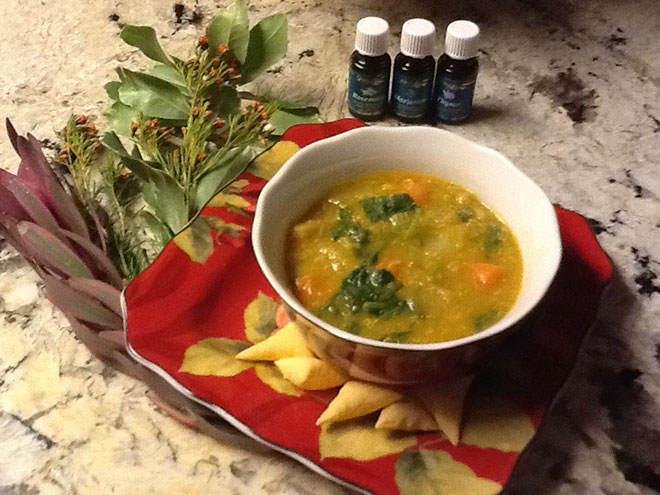 Ingredients
1 diced onion
5 crushed garlic gloves
4 diced celery stalks
2 cups cubed turnips
1-2 cups cubed celery root
2 cups cubed carrots
3 Cups fresh spinach (not a root veggie, but good for you)
1/2 cup quinoa (lots of protein)
2 quarts of vegetable broth (Organic Pacific brand)
pinch of red pepper flakes
sea salt to taste
4 drops of each Young Living Essential Oil – Thyme, Rosemary, and Marjoram
Directions
Sauté in olive oil the onions, garlic and diced celery. Add the 2 quarts of vegetable broth. Bring it to a boil, then turn it down to simmer. Add the rest of the ingredients except the spinach.
Simmer for 1 hour. Add spinach before serving, just allowing it to wilt.
For additional information and uses of the oils mentioned here, please click here.