Carob is a great dairy free substitute for chocolate. Carob has health benefits over chocolate, it is lower in calories, fat, caffeine free and only 13 calories per tablespoon.
It is naturally sweet so it does not need sugar to sweeten it!
One tablespoon carob flour has 2 grams or 10% daily recommended fiber. Fiber can help lower blood glucose and cholesterol levels. can also help with weight loss.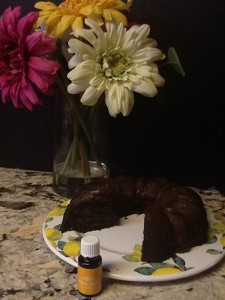 Ingredients
2 1/2 C. sifted almond flour
1/2 C. carob powder
1/2 tsp. sea salt
1 tsp. baking soda
4 eggs
4 Tbs. coconut oil
1/2 C. coconut sugar
1 tsp. vanilla
6-8 drops Young Living Citrus Fresh Essential Oil
1 1/2 C. grated zucchini
1 C. pecan pieces
1 C. cut up dates
Directions
Cream together with mixer, coconut oil and coconut sugar.
Add eggs, blend well.
Add dry ingredients, just until incorporated.
Fold in pecans and dates. (Change it up with any dried fruit or nuts, say cherries and walnuts or apricots and almonds!)
 Bake approx. 45 minutes in a 350 degree oven, in a greased and floured bunt pan.
Let cool completely.
For additional information and uses of the oils mentioned here, please click here.