Turkey is low in fat without the skin. Get your daily dose of folic acid. Turkey is a good source of vitamins B1,B, B6, zinc and potassium.
Organic turkey will help maintain optimum testosterone levels in men, or at best give them a good dose of the amino acid, tryptothan so they just fall asleep. When they wake up the B12 will encourage healthy mood levels! Win. win.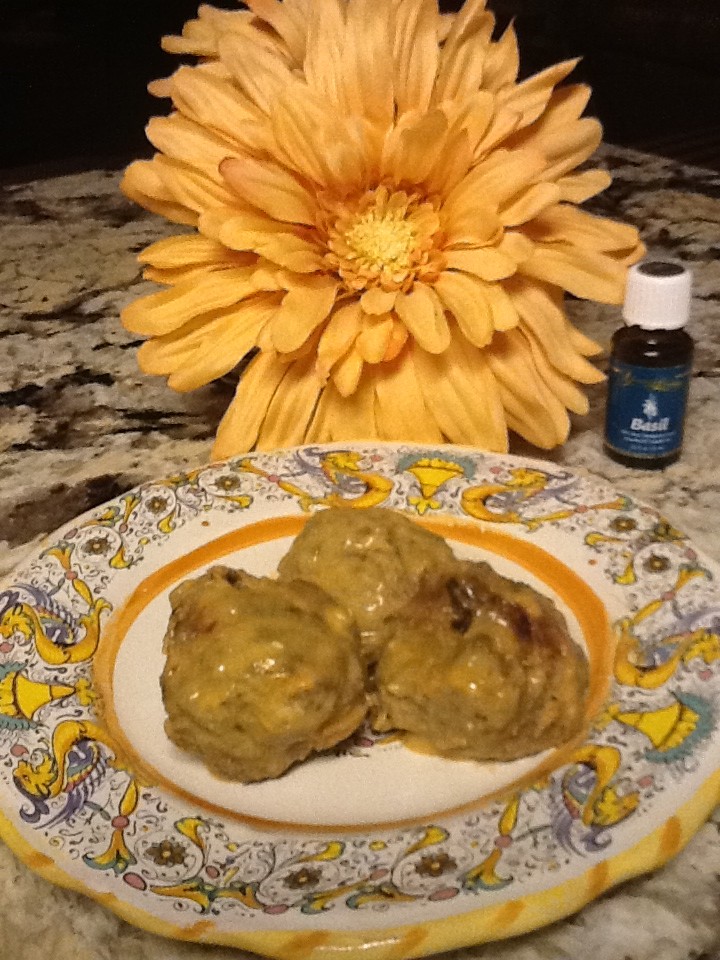 Ingredients
1 1/2 lb. of ground turkey meat (I used the thigh meat)
1 cup beets, carrots, and zucchini and pulse ground in a food processor
1/2 cup shallots
4 large garlic cloves chopped fine
1 – 10 oz. packet of Simply Organic french onion dip mix
2 tbs. pesto paste
1 egg (slightly beaten)
1 1/2 cups breadcrumbs (see recipe)
sea salt (approx. 1 tsp.)
crushed red pepper
5 drops Young Living Basil Essential Oil
Directions
Spray a large bar pan with spray oil to broil meatballs on.
In a large mixing bowl combine all the ground vegetables and add the Basil essential oil, mix it well.
Add all the rest of the ingredients and mix them well.
Make the meatballs, spray the top of them on the bar pan and broil 10 min.
Turn them over and brown other side.
 Gravy (in a large skillet)
Saute 1/2 cup chopped onion and 2 cloves minced garlic
Add: 2 cups broth
1/4 cup wheat free tamari
1/2 cup wine
Bring to boil.
Combine 1 Tbs. gluten free flour and 1/4 cup of broth. (This is to thicken the gravy)
Add to the boiling gravy, turn down to simmer and let thicken. Add the meatballs and let them finish cooking.
If  you would like a creamier gravy, (I do), take out the meatballs and add
1 cup of dairy alternative sour cream. (I use Tofutti sour cream)
For additional information and uses of the oils mentioned here, please click here.