Benefits of Almond Flour
Almond Flour is low glycemic.
Almonds are an alkaline PH.
Almonds have no cholesterol.
Almonds are high in protein and fiber.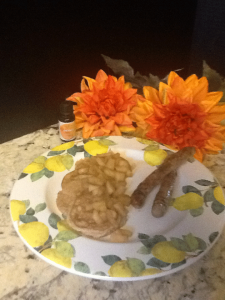 Ingredients
1/2 C. Honeyville almond flour, sifted.
2 tbs. tapioca flour
1 egg
3 egg whites beaten until stiff.
1/4 C. almond milk
1 tbs. oil
1tbs. xylitol or agave syrup
1 tsp. cinnamon
1/2 tsp vanilla
1/4 tsp. salt
5 drops orange essential oil
Directions
Beat the 1 egg. Add the oil, milk, xylitol, cinnamon, vanilla, salt and essential oil.
Mix well. Fold the stiffly beaten egg whites into the batter, gently.
Heat a skillet or grill on low, spray with oil and cook pancakes until golden.
Optional: Top the pancakes with your favorite fruit. I used cooked apples.